---
Introducing the Gravity Series Chef Knife from Spaceman Knives – a cutting-edge culinary companion that blends extraordinary craftsmanship with celestial allure. Embrace the art of culinary mastery as you wield this remarkable blade, designed to elevate your cooking experience to new heights.
The Gravity Series Chef Knife boasts a distinctive 'bowie shaped' blade that commands attention and ignites curiosity. Its dark Damascus pattern, a stunning testament to the knife's superior craftsmanship, is nothing short of mesmerizing. With every slice and chop, the alluring pattern dances across the blade, a testament to its interstellar origins.
Crafted with precision and passion, this knife features an 8" AUS-10 steel blade that takes culinary performance to the next level. Renowned for its exceptional edge retention, the AUS-10 steel ensures that your Gravity Chef Knife remains sharp through every culinary adventure. With an overall HRC of 60+, this blade strikes the perfect balance between hardness and ease of sharpening, making it accessible to both seasoned chefs and aspiring home cooks.
Aesthetics meet functionality with the Gravity Series Chef Knife's full tang construction, ensuring stability, strength, and unparalleled control. This knife isn't just a tool; it's an extension of your culinary artistry.
The handle of the Gravity Series Chef Knife is a marriage of beauty and ergonomics. A harmonious blend of wood and purple resin creates an enchanting contrast, while providing a comfortable and secure grip. Let the knife rest in your hand as you embark on a culinary journey through the cosmos.
Versatility is at the core of the Galaxy Series Chef Knife's design. From slicing succulent meats to dicing vibrant vegetables, this all-purpose knife transforms mundane kitchen tasks into extraordinary culinary experiences. With the Gravity Series Chef Knife by your side, your creativity knows no bounds.
Embrace the cosmos with the Gravity Series Chef Knife from Spaceman Knives. Elevate your culinary endeavors, explore new frontiers of flavor, and embark on a celestial adventure that transcends the ordinary. Reimagine the way you cook, and let this extraordinary knife become your guiding star in the culinary galaxy.
From the people
From the people
"The Hydra Slicer might be the only thing cooler than me!'
"The Hydra Slicer might be the only thing cooler than me!'
"The Constellation Santoku slices everything from salmon to vegetables with ease!"
"The only knife I would put my name on."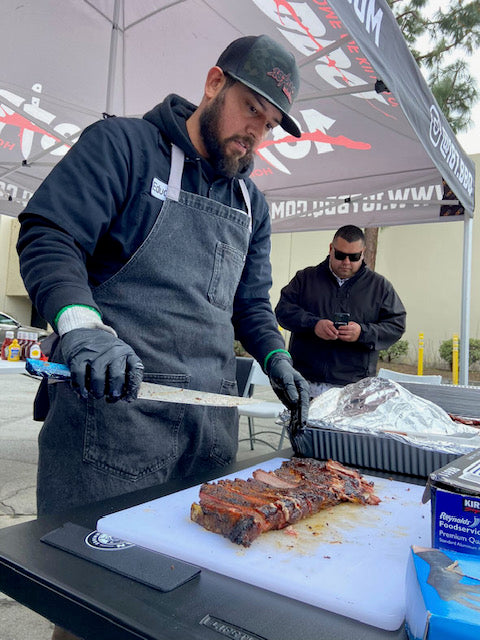 "I use these knives to cater for thousands. They are the best in the game"
"The Petty Chef makes quick work of any job"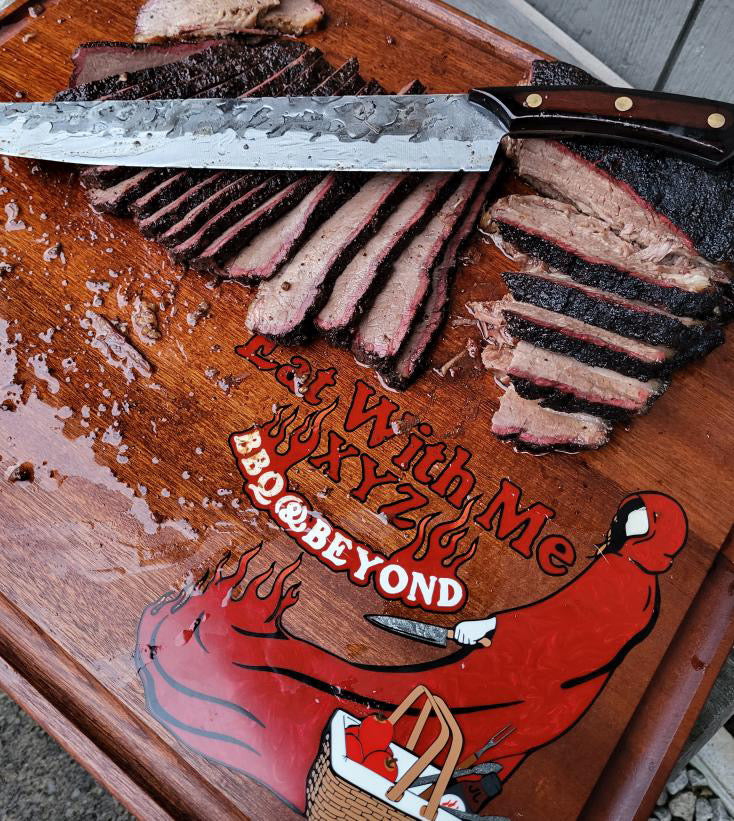 Perfect for slicing through Mega Cooks!
Grilled Skirt Steak Tacos Topped with Chimichurri Written By: Southrngritskitchen Tacos, although are of Mexican origin, have become one of the most commonAmerican family dinners today. The big 'taco boom'...
Chef Mo used her Constellation Santoku to effortlessly cut through the salmon skin and vegetables for this new interesting take on salmon skewers marinated in tzatziki sauce grilled along with grape tomatoes, green peppers, and red onions.
Spaceman Knives has recently released their latest creation, the Space Shucker Oyster Knife. This knife has quickly become a favorite among oyster enthusiasts and chefs alike, thanks to its innovative...